FOR IMMEDIATE RELEASE                                                                                                                                               For more information:
Prevent Blindness Ohio
Stacie Lehman
Phone: 800-301-2020 ext. 119
E-mail: [email protected]
CareSource contribution helps to assists children with 
little eyes and big futures
Dayton, OH (April 25, 2013)–Prevent Blindness Ohio (PBO) received a $10,000 contribution from the CareSource Foundation to support PBO's Star Pupils program. Star Pupils puts focus on "little eyes with big futures" and removes the barrier of poor vision for children, increasing academic and life success through our innovative sight saving programs that enhance existing systems of healthcare and education.
Founded in 1989 by Pamela Morris, CareSource has been one of the top-leading companies in the nation to manage Medicaid. The company strives to serve the community by working with non-profit companies to help bring resources to families in need of assistance.
Juana Johnson, Community Education Representative for CareSource, presented the $10,000 check to Stacie Lehman, Director of Development & Field Services for Prevent Blindness Ohio.
"I am so pleased that Prevent Blindness Ohio was chosen as one of the organizations to receive a contribution from CareSource Foundation to strengthen and expand our Star Pupils Program," said Sherry Williams, President & CEO of Prevent Blindness Ohio. "PBO will use this grant to educate the public about blinding eye diseases, eye safety, and the importance of regular eye exams and provide access to donated, comprehensive eye exams and glasses to both children and adults."
The CareSource Foundation awards grants that have a long-lasting, positive impact on communities by supporting state and local organizations that create opportunities for people to live better.
CareSource Mission
CareSource is committed to making a difference in the lives of underserved people by improving their health care. We take our mission to heart. In fact, we call our mission our heartbeat – it is the essence of our company, and our unwavering commitment to it is a hallmark of our success.
About Prevent Blindness Ohio
Prevent Blindness Ohio, founded in 1957, is Ohio's leading volunteer nonprofit public health organization dedicated to prevent blindness and preserve sight. We serve all 88 Ohio counties, providing direct services to more than 800,000 Ohioans annually and educating millions of consumers about what they can do to protect and preserve their precious gift of sight. Prevent Blindness Ohio is an affiliate of Prevent Blindness America, the country's second-oldest national voluntary health organization. For more information or to make a donation call 800-301-2020 or visit us on the web at pbohio.org.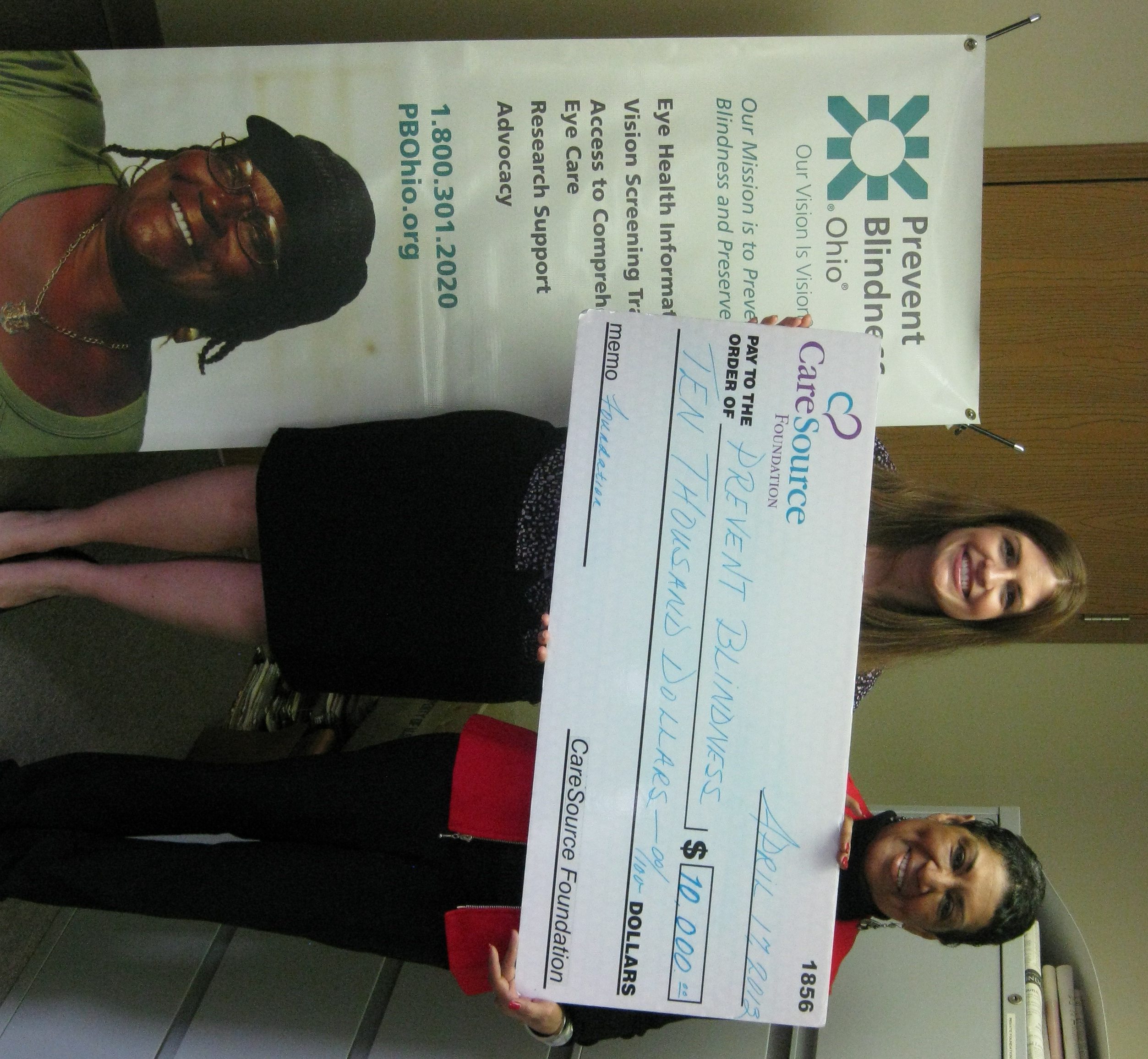 Juana Johnson (right), Community Education Representative
      from CareSource, presents check to Stacie Lehman, Director
      of Development & Field Services for Prevent Blindness Ohio to support its Star Pupils Program.
-30-