FOR IMMEDIATE RELEASE
For more information:
Prevent Blindness Ohio
Dori Jennings
614-270-0746
[email protected]
Youngstown Resident Awarded Prevent Blindness Ohio
Vision Research Fellowship
Columbus, OH (August 23, 2023) Prevent Blindness Ohio is proud to announce that a Vision Research Fellowship grant has been awarded to Youngstown resident, Annie Ryan. Ryan, from The Ohio State University, Department of Biomedical Engineering, is researching traumatic optic neuropathy (TON) which can develop after head trauma and often results in irreversible blindness. There are currently no effective treatments available. This research takes a first step toward elucidating therapeutics and techniques for saving the vision of thousands of TON patients.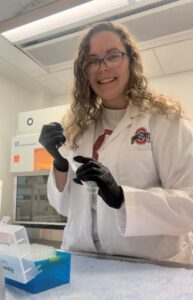 The incidence of vision impairment and vision loss increases as the population ages and given the growth of the aging population, the number of people with impaired vision, including blindness, could skyrocket. To curb this growth, preventive steps must be taken including increased vision research, access to care, and education.
"The growth of vision loss and the overall impact of vision problems on individuals, their families and our society inspired Prevent Blindness Ohio to establish the Young Investigator Student Fellowship Award for Female Scholars in Vision Research," said Amy Pulles, President & CEO of Prevent Blindness Ohio.  "Our goal is to encourage female scientists at the beginning of their careers to pursue vision research that can contribute toward the early detection and treatment discoveries that will be needed to curb the growth of vision loss," Pulles continued.
A Scientific Forum featuring presentations from the Fellowship recipients will be held virtually on November 15, 2023 from noon to 1:00 pm. For more information, contact [email protected].
Register here: https://www.surveymonkey.com/r/Scientificforum2023
Prevent Blindness Ohio is accepting applications for its 2024 Young Investigator Student Fellowship Awards for Female Scholars in Vision Research. Grants will be awarded for the summer 2024 session. The deadline for receipt of applications is February 15, 2024.  Applicants must be post-baccalaureate students enrolled in either a Master's or a Doctorate program, female citizens or permanent residents of the United States and conducting their fellowship project with a recognized academic institution in the State of Ohio. For more information about the Fellowship and/or to access an application form, contact Prevent Blindness Ohio at 800-301-2020 ext. 112 or [email protected]  Download the application here:
http://ohio.preventblindness.org/young-investigator-student-fellowship-awards-female-scholars-vision-research
About Prevent Blindness Ohio
Founded in 1908, Prevent Blindness is the nation's leading volunteer eye health and safety organization dedicated to fighting blindness and saving sight. The Ohio Affiliate of Prevent Blindness serves all 88 Ohio counties, providing direct services to 1,000,000 Ohioans annually and educating millions of consumers about what they can do to protect and preserve their precious gift of sight. For more information or to contribute, call 800-301-2020 or donate here.  Visit us at pbohio.org. Follow us: facebook.com/pbohio
###