Our Mission is to Prevent Blindness and Preserve Sight…
The Ohio Affiliate of Prevent Blindness is celebrating 65+ years as Ohio's leading volunteer nonprofit public health organization dedicated to preventing blindness and preserving sight. Founded in 1957 by U.S. Senator John Bricker and Lion's Club Member, Bob Morrison with support from Nationwide, the Ohio Department of Health and Delta Gamma Fraternity, PBO serves all 88 Ohio counties.  We provide direct services to 1 million Ohioans annually and educate millions of consumers about what they can do to protect and preserve their precious gift of sight. Prevent Blindness is the country's second-oldest national voluntary health organization.
From the beginning, Prevent Blindness' mission has remained steadfast – to prevent blindness and preserve sight.  Our goal is to prevent the 50% of vision loss that is needless and help all Ohioans enjoy good sight for life!
Prevent Blindness is a 501(c)3 volunteer-driven public health charity.  Donations to Prevent Blindness are tax-deductible to the extent allowed by law.  Our sight-saving programs are supported by donations from individuals, corporations, foundations and organizations. We do not receive United Way funding. Prevent Blindness also receives a grant made possible by the Save Our Sight Fund, which is supported by $1+ voluntary check-off donations by Ohioans when they are renewing their motor vehicle registration.
Prevent Blindness is dedicated to addressing the challenge to prevent blindness and preserve sight through our wise investment of community support in programs and services. PBO is one of only 5 nonprofits among Ohio's 40,000+ nonprofit organizations to be awarded a "Standards for Excellence Seal" by the Standards for Excellence Institute. Receipt of this accreditation is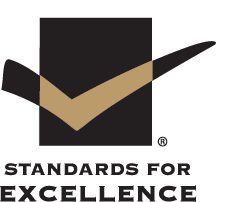 based upon PBO's ethical business standards and accountability in program operations, governance, human resources, financial management and fundraising practices.
Public support is crucial, as Prevent Blindness serves 1 million Ohioans each year through outreach and education efforts designed to connect Ohioans in need with critical sight-saving resources.