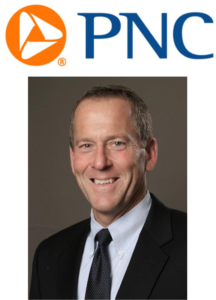 Prevent Blindness Ohio, Joe Shrader and Shrader Tire & Oil (2022 honoree) hosted the Annual Northwest Ohio People of Vision Award presentation on Wednesday, March 15, 2023 at The Toledo Club, honoring Bill McDonnell and PNC Bank for their outstanding philanthropic work in Northwest Ohio communities.
The People of Vision Award was established in 1985 by Prevent Blindness to honor and recognize visionary organizations and their top leadership for the outstanding work they have undertaken to enhance the quality of life within their communities.  The premise of the People of Vision Award is that our community is enriched by such leadership which reflects a "vision of community" to be celebrated and emulated.
STAY TUNED AS WE PLAN THE 2024 EVENT!
We are forever grateful for our 2023 Sponsors!
PREMIER SPONSORS


FRIEND OF HONOREE/HOST SPONSOR

PATRON SPONSOR

CORPORATE SPONSORS
The Andersons
Fresh Products
Hylant
KeyBank
Mercy Health Toledo
Rudolph Libbe Group
The Toledo Clinic
Toledo Edison/First Energy
VISION SPONSORS
Checker Distributors
Eastman & Smith
Joseph Majdalani
Rehmann
Signature Bank
INDIVIDUAL SEAT SPONSORS
The Arts Commission
Tim Goligoski
Kingston Healthcare Company
Range Kleen Mfg., Inc.
Nick Stack
SSOE
Venture Visionary Partners
YMCA of Greater Toledo
OTHER GENEROUS DONATIONS
Emmanuel Christian Church
The Iott Foundation
Kwest Group LLC
NECA/IBEW Local 8
Perrysburg Eye Center
Representative Mike Sheehy